Product Summary
The XC0900A-03S is a low profile, high performance 3dB hybrid coupler in a new easy to use, manufacturing friendly surface mount package. It is designed for NMT band applications. The XC0900A-03S is designed particularly for balanced power and low noise amplifiers, plus signal distribution and other applications where low insertion loss and tight amplitude and phase balance is required. It can be used in high power applications up to 45 Watts.

Parametrics
XC0900A-03S electrical characteristcs: (1)frequency: 410 to 480MHz ; (2)isolation: 23dB min,; (3)insertion loss: 0.36dB max.; (4)VSWR: 1.22 max:1; (5)amplitude balance: ±0.15dB max.; (6)phase balance: 90±3.5°; (7)power: 45 avg.CW watts; (8)θJC: 27°C/w; (9)operating temperature: -55 to +95°C.
Features
XC0900A-03S features: (1)410 to 480 MHz; (2)NMT; (3)Very Low Loss; (4)Tight Amplitude Balance; (5)High Isolation; (6)Production Friendly; (7)Tape and Reel; (8)Available in Lead-Free (as illustrated)or Tin-Lead; (9)Reliable, FIT= 0.53.
Diagrams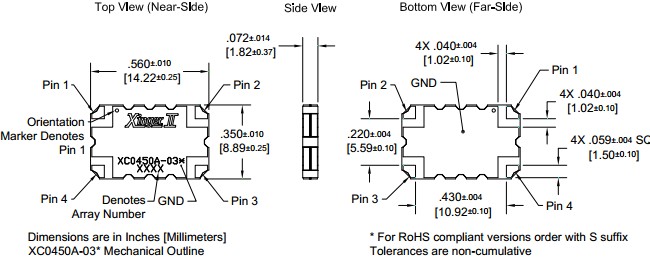 Image
Part No
Mfg
Description
Pricing
(USD)
Quantity

XC0900A-03S

Anaren

Signal Conditioning 811-1000MHz IL:.12dB VSWR:1.12 -55 to 95C

Data Sheet



| | |
| --- | --- |
| 0-1: | $1.92 |
| 1-10: | $1.73 |
| 10-50: | $1.54 |
| 50-100: | $1.38 |

Image
Part No
Mfg
Description
Pricing
(USD)
Quantity

XC09-009-DK

Digi International

RF Development Tools 900Mhz - Xcite 9600 BAUD

Data Sheet



XC09-009NSC

Digi International

RF Modules 9XCite 4mW transcei r w/RPSMA 9600 bps

Data Sheet



XC09-009NSI

Digi International

RF Modules 9XCite 4mW transcei r w/RPSMA 9600 bps

Data Sheet



XC09-009PKC-U

Digi International

RF Modules 9XCite 4mW 9600baud USB no acc

Data Sheet



XC09-009PKC-UA

Digi International

RF Modules 900MHzmW, 9600 Baud BAUD

Data Sheet



XC09-009PKI-RA

Digi International

RF Modules 9XCite 4mW 9600baud RS232/485

Data Sheet